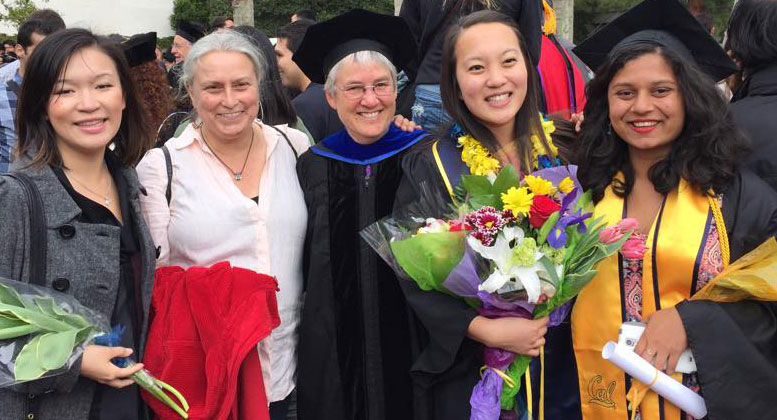 Simms lab members were very proud that senior thesis researchers Aastha Garde and Michael Paap both received special recognition at the IB commencement for their academic and research accomplishments.Congratulations to both!
Aastha Garde was honored with a Marian Diamond Award for Leadership in Research and Teaching. This fall, Aastha will be starting graduate research at Duke University.
Marian Diamond is a leading researcher in brain anatomy and cognition, and a professor at Berkeley in the departments of Anatomy and Integrative Biology for almost 50 years. Her greatest research achievements have been in the effects of environment on brain development, and in the effects of aging on the brain. But she is universally known for her devotion to teaching and to her students. She was named both Professor of the Year nationally and California Alumna of the Year. This award honors Dr. Diamond as a role model and a leader in both research and teaching.
Michael Paap was awarded the Integrative Biology Departmental Citation. Michael has been conducting research on how legume-rhizobium relations affect the interactions of legume plants with their insect herbivores.
The Departmental Citation is the highest departmental honor offered to undergraduates and indicates excellence in the study of integrative biology.