It was a beautiful day in the field!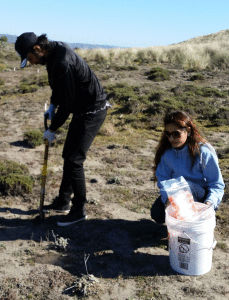 Marriam and Mohsin prepare to collect soil.
It's a very dry year. Mohsin seeks tiny seedlings.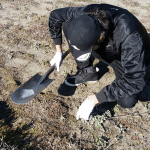 Found two! An L. bicolor and an A. strigosus adjacent to each other! The two species are sympatric at this site, which we call Bunnyland (BL). It occurs on a mid-Holocene dune remnant, where soils are older and richer in organic matter.
These 50ml centrifuge tubes make great coring devises in sand. The third tube is for bulk soil. Can you see the seedlings inside the tubes?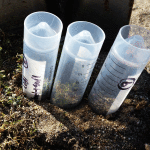 After a quick trip back to the car, we head out into the late Holocene dunes. Here, the soil is mostly sand. It is nutrient poor and very friable. Lupinus bicolor doesn't live here. This year, we find lots of A. strigosus, spread all over the place! We collect again:
Here's our collection protocol, if you can read my sloppy printing. I always photograph my field notebook pages with my phone, so I always have them with me in the field.